Lindsey Patterson helps all of us homeowners with tips on redecorating on a budget.
Most homeowners have a desire to decorate in a manner that suits personal tastes while also being visually appealing. All those home magazines make it look so easy, but can also come with steep prices. When you are limited to a budget that's somewhat smaller, you can still achieve the look you desire without breaking the bank.
Reuse
Before you start buying new furniture, bedding, and fixtures that will quickly eat through your budget, start by taking an inventory of what you already have. Think about ways that things can be reused. Simple furniture pieces can be painted or even just have the hardware changed out that will change the way a piece looks.
Many types of furniture can serve a different purpose. An unused dining table can become a desk. That old sofa table can be used as a mobile bar if wheels are added. Even a broken dresser can be salvaged and transformed.
Simple Appearances
Bigger is not always better. Sometimes a few simple changes can make a big impact, with minimal expense. Updating paint colors or just adding an accent wall is one way. You can also change out throw rugs and light fixtures. A small thing, like changing lamp shades or the glass covers on your ceiling fans or overhead lighting, can have a big visual impact as well.
Add covers to pillows and duvets to bedspreads. But what is a duvet? Think of the duvet like a pillowcase for bedspreads. You can put an existing bedspread inside the duvet and create an entirely different look. Duvets and pillow covers can be purchased in a variety of patterns and colors, but you could also make your own if you want something more custom.
Thrifty Shopping
If you still plan to make some purchases, consider used pieces. Second-hand or thrift stores are often great places to buy décor items without spending a fortune. Wholesale, liquidation, and salvage places can also help save some money. Remember to consider possible alternate uses for items as well.
Keep your eyes open for things that people are trying to sell, too. Visit yard sales and flea markets. You can find a wide variety of items that people are selling for low prices. Swap meets are also good places to locate what you might need, while giving you the opportunity to get rid of something that no longer suits your tastes or needs.
Artwork
An alternative to pricey reprints, or even more expensive originals, is to create your own artwork to display. Try your skill at painting or decoupage. Frame your child's latest art piece. You can even find free artwork to print and use at home. Spruce up some old wooden frames. Things like foiling and sponging can help you turn drab frames into decorative displays.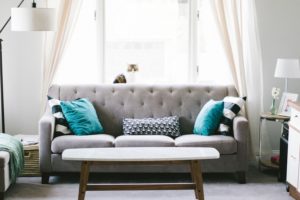 One at a Time
The most important thing to remember is to take it one step at a time. Try not to redecorate every room at the same time. You may need to divide your budget into chunks for each room that you want to redecorate. If you go room by room, you may find that you have some money left over that can be used for other rooms. By going one room at a time, you can avoid getting overwhelmed because you have taken on too much at once.
There are numerous options for redecorating on a budget, regardless of how small that budget might be. In your redecorating efforts, you can make huge changes just as easily as you can make small ones, both impacting the final result of a room. In the end, your home can be a display of the things you enjoy in an atmosphere that best suits you.
Click here for the full article